"Breath Intelligence" is an easy-to-use handheld system that lets you answer these questions by measuring breath compounds related to fat-burning and hydration. In consequence you will be able to more accurately tell if your exercise and nutrition routine is the right one for your health and fitness goals. With the support of "Breath Intelligence" anybody conscientious about their health can profit from a better suited exercise and nutrition plan and as a result save time and money on the way to a healthier lifestyle.
Through better informed and healthy living, "Breath Intelligence" will help all of us move towards an increasingly healthy society.
Currently there is a lack of simple and adequate means of evaluating the current status of our health and monitoring the effects of actions undertaken for our wellbeing. Many people train in fitness studios or on hometrainers using cardio-watches to keep their effort in the "fat-burning range". Even though they exercise regularly, they do not obtain the desired results. Having a look at the metabolism will help, since fat-reserves will only be consumed once freely available sugar is depleted. Being able to measure metabolic markers related to fat-burning will give you a direct information, if your training is effective. "Breath Intelligence" a handheld and easy-to-use system for measuring metabolic markers in breath will give you the information you need to easily adjust your daily routine and in consequence make the most of your training and nutrition. It consists of three parts:
"Breath Intelligence Base": the handheld unit.
"Breath Intelligence Cartridge": the exchangeable measurement module.
"Breath Intelligence App": the user interface on the mobile device.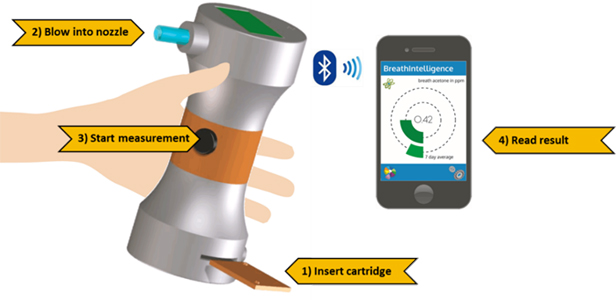 Breath Intelligence not only monitors breath markers related to fatburning, but also markers related to hydration, alcohol and oral hygiene. The technology behind the system, allows to add further markers of interest with limited amount of research and development. The modular design of Breath Intelligence makes it possible to increase system functionality in an uncomplicated way.
We are convinced that "Breath Intelligence's" unique capability of separating different breath compounds into a personal "breath print" makes it a great tool for nutritionists, health and fitness coaches as well as fitness studios, who have a substantial demand for these kind of health related measurement systems. Therefore, "Breath Intelligence" will be first made available to these professional customers. A bit later a slightly simplified version of "Breath Intelligence" will also become available for individual users, to better support their health efforts in their everyday life.
---